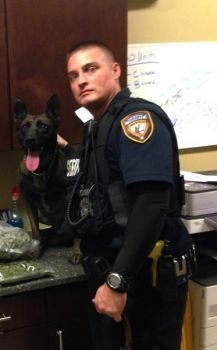 A Harris County, Texas, deputy is in critical condition after a traffic crash Tuesday morning on the North Sam Houston Parkway in northeast Harris County, the Houston Chronicle reports.
The three-vehicle wreck occurred about 7:50 a.m. on Beltway 8 near Wilson Road, according to the Harris County Sheriff's Office. The deputy had a K-9 in his squad car.
Deputy Jason Denham, a 10-year veteran of the sheriff's office, was flown by LifeFlight medical helicopter to Memorial Hermann-The Texas Medical Center, officials said. Denham is a married father of three young girls.
Sheriff Adrian Garcia said Denham has trauma to the left side of his body. "His condition is critical, doctors are hopeful for his recovery," Garcia said.
Three other people were sent to another nearby hospital. Their conditions were unknown.
The dog is a male Belgian malinois named Sjors. He was checked out by a vet in Pasadena and is fine, Garcia said, but he is missing his partner.