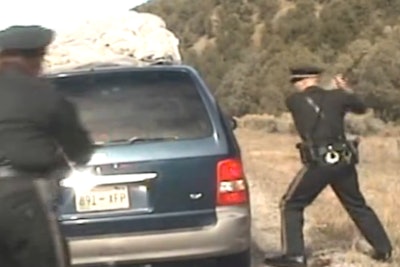 A New Mexico State Police officer who fired shots at a minivan during a chaotic October traffic stop in Taos plans to appeal his firing, the Associated Press reports.

Attorneys for Elias Montoya announced Sunday that they are reviewing the allegations against the veteran officer and that Montoya intends to file an appeal for wrongful termination.
Montoya was fired from the State Police on Friday.
Albuquerque TV station KRQE reports that rallies have been held in Taos both for and against Montoya.
Organizers of Sunday's support rally told KRQE they want to prove that the majority of Taos supports Montoya and his actions.
"We're behind our law enforcement officials and we don't like people driving through our town at 100 mph through school zones and then pretending to be a victim, I just think this is ridiculous," said Marie Fleur, a co-organizer of the support rally.
Related Story: