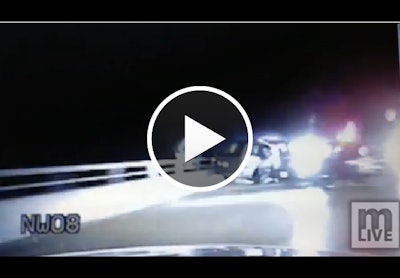 VIDEO: Dashcam Shows MSP Trooper, Suspect Falling Off Bridge
A Saginaw Township police cruiser's dash camera captured the moment when a Michigan State Police trooper and a suspect who had bolted from a vehicle after a police chase fell from a highway overpass in Saginaw County, Mlive reports.
The trooper tried to pull over a vehicle for defective equipment on Interstate 675 when the suspect vehicle refused to pull over, sparking a chase, according to Michigan State Police.
Police used "stop sticks" to stop the vehicle on I-675 near Kochville Road, police said. As a Saginaw Township officer pulled up to the scene, the vehicle's camera recorded the suspect standing on the guardrail of the overpass. A trooper can be seen running toward the man.
The suspect falls off the overpass, followed by the trooper. Both men fell "25 to 35 feet" and were injured. The trooper was released from the hospital last week and is on paid leave and recovering at home, Lt. Brian Cole of the Michigan State Police said. Police could not provide additional information about the suspect's injuries.