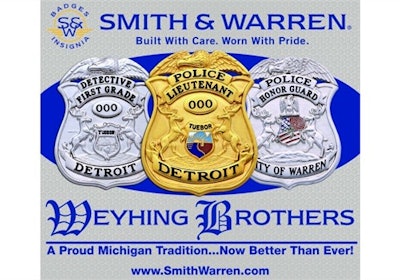 Smith & Warren, a U.S. manufacturer of badges, uniform insignia, and accessories will now carry on the proud Michigan tradition of the Weyhing Brothers Manufacturing Company. The skillful manufacturing process of Weyhing Brothers' carefully crafted products will be maintained as all of the original tools and dies have been transferred to the Smith & Warren production facilities in White Plains, N.Y.
"It is with a great sense of responsibility to the Michigan public safety community that we take on the Weyhing Brothers product line" says Lee Galperin of Smith & Warren. "Weyhing Brothers has been locally manufacturing badges in Michigan for over 100 years. We plan to use the original dies in the manufacture of the new badges while combining modern production techniques to ensure the highest levels of quality and service."
Weyhing Brothers badge styles will now be available through all authorized Smith & Warren dealers and can be customized and previewed online with Smith & Warrens' industry leading VisualBadge program.
Visit www.SmithWarren.com for more information, or to view the Weyhing Brothers badge styles.
About Weyhing Brothers
Weyhing Brothers Manufacturing Company has manufactured in the heart of Detroit, Mich., since 1903, producing custom-made badges, jewelry, and awards. It has been a family owned and operated business since 1983, using the original equipment, tools, and dies to produce a unique end product.
About Smith & Warren
Smith & Warren has been proudly manufacturing uniform badges and insignia in the United States since 1925, and is a technologically advanced badge manufacturer. The finest materials are combined with cutting edge manufacturing technology to produce a product that can be worn with pride. Every Smith & Warren badge is manufactured within 3 weeks and comes with a Full Lifetime Warranty. To learn more about Smith & Warren visit www.smithwarren.com.