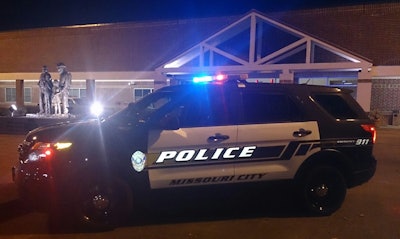 A Missouri City, Texas, police officer was forced to jump from a highway bridge to avoid being struck by an alleged drunk driver on Friday night. A teacher from a nearby school was arrested for DUI.
Investigators told KPRC-TV 2 the officer was conducting a traffic stop when a vehicle, traveling eastbound on State Highway 6, struck the rear of his patrol car. The patrol car then slammed into the vehicle the officer had initially stopped, police say.
Missouri City police say the impact sent one of the officers over the edge of the bridge, falling approximately 20-30 feet.
Officer Kenneth Lewis is recovering at Memorial Hermann Hospital after a chain-reaction crash that sent him plunging 30 feet off a bridge, Missouri City Police investigators say. Lewis was out of surgery late Friday, and is expected to recover.
According to police, 46-year-old Christie Diane Biggers was intoxicated when she crashed into the back of Lewis' patrol car. Biggers is employed as PE teacher at a nearby elementary School.