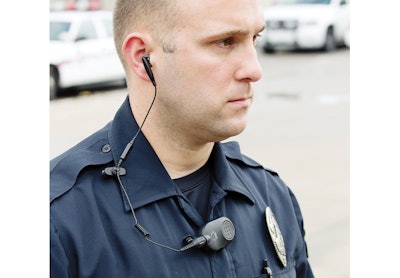 Communications are critical to all law enforcement operations. The biggest and best-equipped police force in the world is very ineffective without the ability to coordinate efforts. What began with call boxes evolved to radios in cars and finally allowed each officer to have a portable radio on his or her belt.
Thankfully, my LE debut was long after this evolution had taken place and my first radio was a digital Motorola with a trusty shoulder mic. It worked great with few drawbacks; one of them being the lack of an integrated earpiece for privacy and the other being the large, coiled cord that tethered my torso to the radio on my belt.
Motorola hasn't rested on the success of its line of portable radios, instead choosing to evolve even further while embracing some current, existing technology. The company's new Mission Critical Bluetooth Earpiece is what I would call the cutting edge of communications equipment. It thoroughly addresses both of the problems I had with my first rig.
The Mission Critical earpiece is about as simple as they come with a large, easy-to-activate push-to-talk button connected to a combination earpiece/microphone with a 9-inch or 12-inch coiled cord, depending on the model. The push-to-talk module houses the technology and rechargeable lithium battery pack and has a large swiveling clip to securely mount it to almost anything. There are only three other buttons on the module: one for the power switch and two for volume control.
The earpiece itself is not new, having been used for Motorola's previous line of CommPort wired communication systems. This isn't an issue, though, because the design and function is still, in my opinion, the best available. It is a tried and true piece of gear and I was happy to see it continue into the next generation of comms.
The Mission Critical comes with extra foam wind-covers, rubber straps to secure the earpiece to the user's ear, replacement acoustic tubes, and a charger. It is obviously designed to be paired with a Bluetooth-enabled portable radio, mine being the APX-7000, but will work with older generations as well via a Bluetooth adapter. Pairing the two is a snap. Simply turn on both the earpiece and the radio and touch the two together. The equipment has close-proximity pairing technology and the two halves instantly recognize each other.
I've been using the Mission Critical in the field for several months now, longer than a normal test, but I thought it was important to thoroughly vet such a critical piece of gear, and I couldn't be happier. It is light, comfortable, and easy to use, and it provides clean and clear communications. It has yet to come "unpaired" from my radio and has never malfunctioned. The weight savings over the traditional corded systems is noticeable and no longer being tethered to a shoulder mic is a nice feeling.
My only complaint is the battery life. My example averages about 12 hours of use with moderate transmitting. This is just outside the 10-hour window needed to complete my shift and a concern should I have to hold over for that last-minute emergency. Because of this I still keep my trusty shoulder mic in my gear bag just in case.
The Mission Critical Bluetooth Earpiece is available now through a variety of Motorola distributors.
A.J. George is a sergeant with the Scottsdale (Ariz.) Police Department currently assigned to the advanced training unit as a firearms and tactics instructor.
Motorola Mission Critical Bluetooth Earpiece Specs:
Maximum Range: 33 feet
Motorola Wireless Category: Mission critical (secure)
Push-to-talk Button: In-line
Charging Connector: Micro-USB
Approximate Talk Time Between Charges: 10 hours
Battery: Lithium polymer
IP Rating: IP54
Weight: 64 grams (pod and earpiece)
Operating temperature: -30 to +60 C
Dimensions: 70 x 41 x 19 mm
Intrinsic safety standard: FM
Price: $295