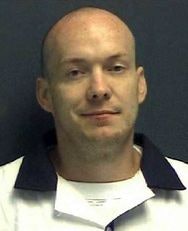 The man convicted of shooting a Cobb County police officer five times was sentenced to 105 years in prison Friday afternoon.
James Albert Phillips, 36, was found guilty of 12 charges, including criminal attempt to commit murder, aggravated battery, trafficking in methamphetamine, criminal damage to property, four counts of possession of a firearm during commission of a felony, and four counts of possession of a firearm by a convicted felon, the district attorney told the Atlanta Journal-Constitution.
About 2:30 a.m. on Feb. 4, Officer Charles Vill made a traffic stop on Powers Ferry Road near I-285, according to investigators. As Vill, 26, approached the vehicle, he was shot five times, including in the hand.
"James Phillips shot Officer Charles Vill, and then he ran, like a coward," DA Vic Reynolds said in an emailed statement. "But for the grace of God and that young officer's Kevlar vest, this is not a murder trial. We are fortunate that there are good people like Officer Vill on the thin blue line out there protecting us."
Police arrested Phillips about a mile away from the shooting scene when he was found in the stairwell of a home near the Chattahoochee River. He had been held without bond at the Cobb jail since his arrest.
Because of his recidivism, Phillips is not eligible for parole.