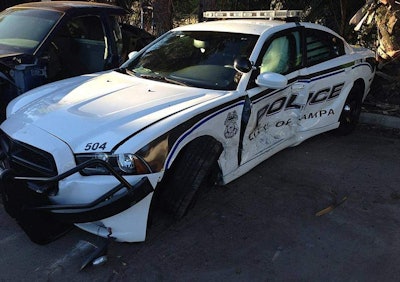 Tampa police Officer Natasha Stanek was heading home in her patrol car shortly before 4 a.m. Sunday after finishing her shift in South Tampa. She passed through a green light on the ramp to southbound Interstate 275 at the Armenia Avenue intersection then a wrong-way driver slammed into the side of Stanek's patrol car, sending it over the curb, barely missing a couple of utility poles.
"I'm lucky to be alive and walking around," she told the Tampa Tribune, crediting the extra reinforcement of the patrol car for saving her life. "I just have a little soreness. This is probably one of the scariest things I've been a part of."
She said if that vehicle, a 2010 Mazda 3 driven by Hillary K. Whittle, 24, had struck another vehicle - like the one that was following her through the green light - that person may have been killed. "I'm grateful she hit me," the officer said, "rather than another car."
Police have not charged Whittle. A roadside sobriety test was not done because she was injured. Officers are awaiting the results of a blood test taken at the hospital. Whittle was not seriously hurt, police said, and was released from the hospital later Sunday.
The crash was the latest in an unsettling trend in the Tampa area in which wrong-way drivers have caused crashes, many of them fatal. In most of the cases, alcohol played a role, authorities said.
The number of wrong-way wrecks has prompted the Florida Department of Transportation to put up signs on some interstate off-ramps that use flashing lights to tell wrong-way drivers they should turn around.