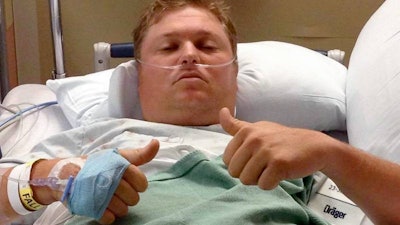 A Jackson County (Texas) Sheriff's deputy pushed off a bridge Saturday underwent surgery and is recovering in a San Antonio hospital.
Bryan Martin, who has worked with the sheriff's office for the past two years as a deputy, underwent surgery to temporarily stabilize the fracture of his left femur, officials with the Jackson County Sheriff's Office told the Victoria Advocate Sunday. He will undergo additional, permanent surgery to his femur over the next few days, as well as surgery to stabilize the fracture of his L5 vertebrae. The severity of the fracture is still unknown.
Martin was pushed at least 18-feet off a bridge early Saturday morning on Farm-to-Market Road 616 near Lolita after pulling over a man suspected to be driving while intoxicated.
Martin suffered fractures to his left femur and ribs, and had injuries to his lower back, Jackson County Sheriff Andy Louderback said.
A warrant was later issued for the arrest of Adam Twardowski, 33, of Edna.