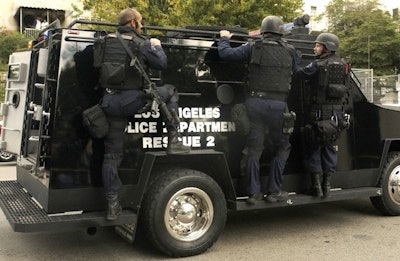 Los Angeles Police and Sheriff's Deputies have arrested one man described as a person of interest in a series of deadly shootings that left three dead and four wounded.
Two gunmen who had already killed at large on the streets posed "a major public threat," Sgt. Frank Preciado told the Los Angeles Times, but the LAPD and the county Sheriff's Department had deployed "a lot of resources" to identify and track down the killers.
Late Sunday evening, there was a break in the case.
About 8:30 p.m., a man had barricaded himself inside a house in the 13700 block of Kismet Avenue in Sylmar, according to radio communications between police.
After officers discussed efforts to contact the man by cellphone, they reported seeing him trying to flee the house. He was quickly taken into custody.
Capt. Billy Hayes later described the man at a news conference as a "person of interest" in the killings.
It was not immediately clear what led police to the man. Police were still working to determine if the witness accounts of two men in the SUV were accurate.
The first 911 calls came in at 5:50 a.m., when the family came under fire in the 1400 block of Celis Street in the northeast corner of the San Fernando Valley. The eldest child, in her early 20s, was killed. Her teenage twin siblings were injured, apparently by shards of flying glass, police said. The family had been on their way to an early-morning Mass at Santa Rosa de Lima, a Roman Catholic church a few blocks away.
Blood covered the sidewalk where the victims had lain. In the afternoon, after the crime scene tape had come down and detectives had departed, neighborhood residents were left to wash it away. One of them, a man who did not want to be identified, said the family had lived next door to him until they moved away a few years ago. After they left, he said, they still regularly attended services at Santa Rosa and often passed down the street waving to their old neighbors.