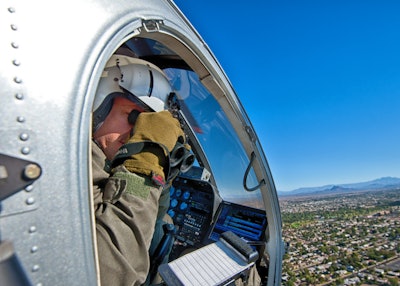 A recent city audit deemed the Phoenix Police Department's air-support unit fleet too large and redundant and some of its practices too costly.
So, the department will soon surrender three of its helicopters — a move some of the unit's leaders say will leave them "bare bones."
The fleet reduction, combined with other recommended changes, could save about $3.3 million during the next fiscal year.
About 30 employees work with the unit, which has eight helicopters, one twin-engine helicopter it uses with the fire department for rescues, and four airplanes, a fleet that has cost nearly $33 million to accumulate over the past few decades. A 2006 voter-approved public-safety bond covered some of that cost.
The city's 530-square-mile size and sprawling nature make for ample demand for the unit's skills — an airborne officer can see for miles and reach any corner of the Valley within minutes, Chief Pilot Paul Apolinar told the Arizona Republic.
Police police spokesman Sgt. Trent Crump said it's nice to have a large fleet, but the department must weigh what is necessary in tight economic times.