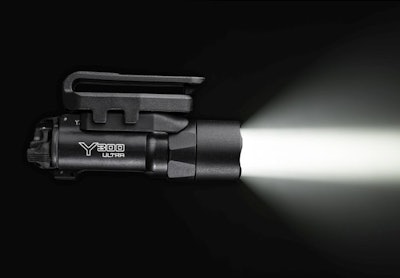 SureFire has released the new Y300 Ultra flashlight. This latest Ultra model—"Ultra" designating it features an ultra-high-output LED that generates a maximum output of 500 lumens—is also ultra-compact, at just 3.6 inches in length, and weighs only 5.5 ounces when loaded with the two 123A lithium batteries that power it.
In addition to its 500-lumen max output, the dual-output Y300U also generates a useful 15-lumen beam on its lower setting. It also has a unique magnetic platform that allows attachment to a variety of metal surfaces—for hands-free use—making the Y300U one of SureFire's most versatile flashlights.
With the absence of a narrow body, or barrel, the Y300 Ultra does not resemble a typical flashlight. Rather, its wider-but-shorter body accommodates two batteries side by side instead of the more typical end-to-end arrangement, making the light look more like its weapon-mountable predecessor, the SureFire X300 Ultra. This shorter body allows the light to fit easily in the palm of a hand and also provides a wider platform on which to mount a magnet platform that enables Y300U to be attached to any steel surface or to its included magnet belt clip for secure carry and easy access. The Y300 Ultra also comes with an included steel pocket clip, which can be attached for secure pocket carry or to clip the light to the bill of a cap for quick-and-easy hands-free illumination.
The Y300 Ultra features a TIR lens that focuses its LED to create a beam with plenty of reach and sufficient surround light to accommodate peripheral vision. It has an ambidextrous push/toggle switch located on its endcap, which sets the LED's output level and activates it in momentary- or constant-on mode. The body and bezel are constructed of lightweight, durable aerospace aluminum that's finished with rugged, attractive Mil-Spec hard anodizing that resists chipping and corrosion. The unit is also gasket and O-ring sealed to keep debris and moisture away from Y300U's sophisticated electronics, so it's weatherproof and able to thrive in extreme conditions.
Y300 Ultra has an MSRP of $295 and is available for purchase from authorized SureFire dealers or directly from SureFire at www.surefire.com. Although it strongly resembles SureFire's X-Series WeaponLights, the Y300U is NOT designed for attachment to a weapon of any kind.
Features and Benefits:
• Virtually indestructible LED emitter regulated to maximize output and runtime
• Two output levels—high for maximum light, low for extended runtime
• TIR lens produces tight beam with reach and enough surround light for peripheral vision
• Ambidextrous momentary- and constant-on switching
• Coated, tempered window resists impact and maximizes light output • Two carry options: pocket clip and magnetic belt clip
• Weatherproof O-ring and gasket sealing
• Includes high-energy 123A batteries with 10-year shelf life
• Backed by SureFire's No-Hassle Promise
About SureFire
Located in Fountain Valley, Calif., SureFire, LLC is the manufacturer of high-performance flashlights, weapon-mounted lights, and other tactical equipment for those who go in harm's way, or anyone who demands quality, innovation, and performance. SureFire is an ISO 9001:2000-certified company.