The suspect shot and killed by Albuquerque police Tuesday evening started the shootout when he fired at officers with an Old West-style revolver stolen earlier this week from a sheriff's deputy's home, according to police.
The suspect was also wearing body armor stolen in the same burglary.
Albuquerque police on Wednesday identified the suspect as John Edward Okeefe, 35, a convicted felon with narcotics and armed robbery charges out of Missouri and New Mexico dating back to 2000. Convicted felons are prohibited by law from having firearms and body armor.
APD spokesman Tanner Tixier told the Albuquerque Journal two police officers exchanged fire with Okeefe during a foot chase and they have been placed on administrative leave. The officers had not yet been interviewed about the shooting on Wednesday, and police didn't release their names.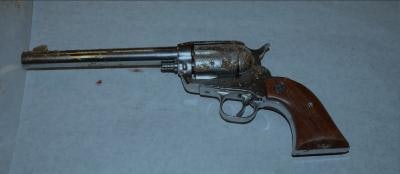 The gun Okeefe had was a Ruger Vaquero .45 Long Colt – a modern revolver with an Old West look. Bernalillo County Sheriff's Sgt. Aaron Williamson said someone broke into a deputy's home on Monday morning and stole the vest and three firearms, which were personal weapons the deputy doesn't use on duty.
The deputy, a 16-year veteran of the sheriff's office, was at work at the time of the burglary, Williamson said in an email Wednesday.