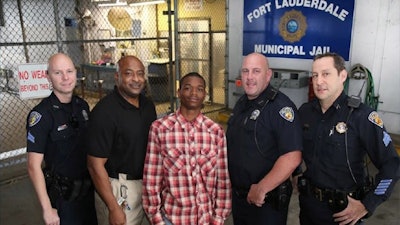 A Florida teen who has often found himself on the wrong side of the law is now being hailed as a hero after he helped saved the life of a police officer who was booking him at the jail, reports the Sun Sentinel.
Jamal Rutledge, 17, was handcuffed and sitting in the Fort Lauderdale police booking facility on Sept. 10, a few feet away from a desk where Officer Franklin Foulks was doing paperwork.
Suddenly, Foulks, 49, leaned backward from the desk, toppled off his chair and collapsed to the floor, according to Detective DeAnna Greenlaw.
Seeing Foulks in distress, Rutledge got up and began kicking the security fence and yelling to alert other officers in the area. The events were captured on surveillance video.
Rutledge, a Fort Lauderdale resident, along with three police officers who teamed up to save Foulks' life, will be honored Jan. 21 at a city commission meeting.