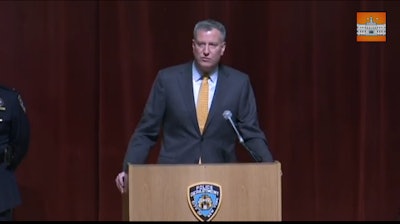 Not long after Mayor Bill de Blasio sat beside the Rev. Al Sharpton at a July summit meeting on police reform, a political adviser gave the mayor a blunt assessment: You have a problem with the cops.
Rank-and-file officers felt disrespected by the mayor, the adviser explained, and were dismayed to see Mr. Sharpton, a longtime critic of the New York Police Department, embraced at City Hall.
But Mr. de Blasio, a Democrat, rejected the notion that officers disliked him. His message, the adviser later recalled, was clear: Everything was under control.
That confidence would last until late last month, when the murders of two officers in Brooklyn prompted the department to adopt a stance of rebellion. Uniformed officers protested against the mayor in public, and low-level arrests virtually stopped. Mr. de Blasio, a liberal who had staked his mayoralty on re-educating the police force, is struggling to secure its basic trust, the New York Times reports.