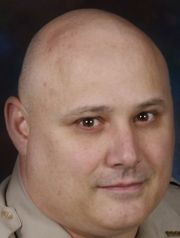 A sheriff's deputy and three members of his family were found dead in an apparent murder-suicide Tuesday afternoon in a home near Hiram, Ga., about 25 miles northwest of Atlanta, WXIA-TV reports.
According to Cpl. Ashley Henson of the Paulding County Sheriff's Office, the bodies were discovered at a home on Ridge Road near the town of 2,300 people.
Investigators said they became concerned when Cpl. Sam Driskell, a 10-year veteran of the Paulding Sheriff's Office, failed to show up for a court appearance in which he was scheduled to testify. The office sent two deputies to his home.
Responding officers found the bodies of Driskell, 52, along with his wife, Muachin Driskell, 36, his stepson Felix Almonte, 21, and his daughter Carolyn, 12. They had all died of apparent gunshot wounds, according to officials.
Authorities told USA Today that it appeared the stepson shot and killed the other three and then killed himself. The shootings appeared to have occurred Monday.