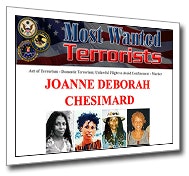 New Jersey Gov. Chris Christie has called on President Barack Obama to demand that Cuba return a woman convicted of killing a New Jersey State Police officer in 1973 before the United States moves forward with a plan to restore diplomatic relations with the communist nation.
Christie joined other state lawmakers and authorities in calling on the president to demand Cuba immediately return Joanne Chesimard, a member of the Black Liberation Army who was found guilty in 1977 of murdering Trooper Werner Foerster.
Chesimard was sentenced to life in prison but escaped after two years. Chesimard moved in the mid-1980s to the communist island, where she was granted asylum by Fidel Castro. Chesimard has been living in Cuba since then under the name Assata Shakur, NJ.com reports.