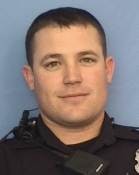 Albuquerque police officer Jeremy Dear, who fatally shot a 19-year-old woman suspected of stealing a truck in April, was fired Monday for insubordination and untruthfulness, according to Albuquerque Police Department Chief Gorden Eden.
The department has a policy requiring all officers to record every time they have contact with a citizen. Eden said in an emailed statement that Dear was under that order and didn't comply.
Dear's attorney, Thomas Grover, contends APD unfairly targeted Dear for violating its lapel camera policy – and that the policy is impossible for any officer to fully comply with.
"I think he made a good faith effort to use his lapel cam as much as he could," Grover said. "If they did an audit of every field officer who has a lapel camera, I think they would find 100 percent noncompliance. It's just not possible to use the camera all the time. You're going to have a margin of error."
An Albuquerque Journal review of his personnel file shows that, before the Hawkes shooting, Dear didn't record two other use-of-force incidents nor two other citizen complaints.
Grover said Dear's appeal, which was mailed Monday morning, alleges that the department has no evidence to support its claims.