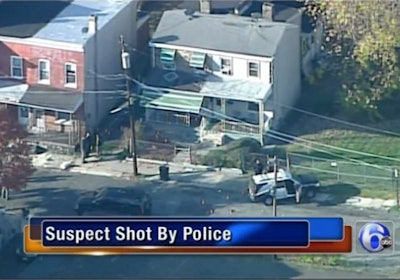 Trenton, N.J., police officers shot a man early Thursday after he opened fire on their police cruiser as they arrived to investigate a report of a man with a gun, authorities said.
ABC 6 TV said the call was for an apparent home invasion.
The gunman, whose name has not been released, has since died from his wounds, NJ.com reports.
Two Trenton police officers were also taken to a hospital for evaluation, but were not shot in the shootout, said Casey DeBlasio, spokeswoman for the Mercer County Prosecutor's Office.
Three bullet holes were visible in the windshield of police SUV at the scene. It appears the driver's side window has also been shattered.
Trenton Mayor Eric Jackson said one of the officers had already been released from the hospital, but the second officer, whom he identified as Marlon Parrot, was still in the hospital receiving treatment, but doing well.