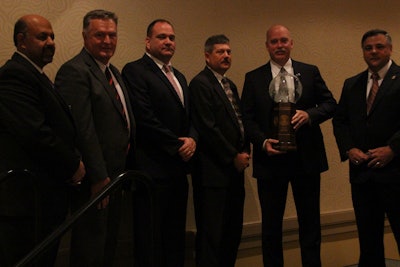 An innovative, highly-coordinated approach to stem rural crime throughout the state of Missouri has earned the Missouri State Highway Patrol Rural Crimes Investigative Unit (RCIU) the 2014 International Association of Chiefs of Police (IACP)/Thomson Reuters Award for Excellence in Criminal Investigation.
In 2009, after several years of rising rural crime throughout the state of Missouri, the Missouri State Highway Patrol formed the RCIU. With a team of 10 criminal investigators and one civilian analyst, the RCIU focused its resources and effort on crime specifically targeting the state's agricultural industry and farming communities.
The RCIU enacted several strategies early-on, including the creation of an Internet site to enable all law enforcement agencies in Missouri to contribute intelligence data, which resulted in the first centralized rural crime database in the state. The unit also forged partnerships with smaller law enforcement agencies, participated in task force activities with federal, state and local agencies, and engaged agricultural business owners and civilians to be active law enforcement partners and report crimes and tips through a newly-established 800-number.
Since the formation of the RCIU in 2009, approximately $7.6 million in stolen property has been recovered, more than 1,500 criminal investigations have been conducted and 345 suspects have been arrested. In one key case, the unit was able to identify and arrest three suspects involved in multiple thefts from a fertilizer company; the subpoenaed banking records of one suspect found more than $900,000 in cash deposits directly tied to the thefts.
"The rapid success of the Rural Crimes Investigative Unit is a reminder that collaboration between law enforcement agencies, engagement with the public and business communities and thoughtful, strategic use of technology is a winning combination to confront crime, not just in rural Missouri, but across the country and worldwide," said IACP past president, Chief Yousry "Yost" Zakhary (City of Woodway, Texas). "On behalf of the IACP, I am pleased to recognize the Missouri State Highway Patrol Rural Crimes Investigative Unit for their excellent investigative work."
The first runner-up is the Elgin Police Department (EPD) of Elgin, Ill. for the launch of its "If You Like It, Lock It" public awareness campaign to address an increase of burglaries to motor vehicle in the city. In 2012, EPD noted 430 burglaries to vehicles – a rise over the previous year – and of those cases, an estimated 70 percent of vehicles stolen or burglarized were unlocked or had keys in the ignition. In addition to launching the awareness campaign, the EPD used social media to communicate with citizens and enabled the public to report crimes and/or tips online or via text. The EPD was then able to analyze this data to establish trends and patterns and recognize possible offenders. These strategies lead to a 20 percent reduction in motor vehicle burglaries by 2013.
The second runner-up, the Halton Regional Police Service Homicide Unit (HRPS) of Oakville, Ontario, Canada, is being recognized for its use of technology to locate a suspect in a cold case homicide. In 1976, an adult man was murdered in his apartment; the victim of multiple stab wounds. A break in the case came in 2000, when the HRPS learned that a nationwide fingerprint search could connect a print recovered from the crime scene to a key individual. In 2012, HRPS initiated a new review of the case, and with the help of advanced forensic techniques, they were able to identify a previously unrecognized fingerprint that could connect the identified suspect to the scene of the crime. In April 2013, the suspect was arrested, returned to Ontario and is awaiting trial.
"In reading about this year's honorees, we see that while technology plays an important part, it is tenacity that is truly at the core of effective police work," said Brian Knudsen, vice president of the Government segment of Thomson Reuters. "On behalf of Thomson Reuters and the IACP, I am honored to recognize the Missouri State Highway Patrol, Elgin Police Department, Halton Regional Police Service and all law enforcement professionals who serve their communities with distinction."
The IACP/Thomson Reuters Award for Excellence in Criminal Investigation is given to a law enforcement agency, law enforcement unit, task force or inter-agency task force in recognition of exceptional innovation and excellence in the area of criminal investigations. Judging focuses on contributions to the advancement of the art or science of criminal investigations, and innovations in the development or enhancement of investigative techniques. The award is sponsored by the Fraud Prevention & Investigations business of Thomson Reuters, whose public records solutions include CLEAR ®, a powerful investigative suite that law enforcement can use to research people and organizations suspected of criminal activity. Learn more at www.theiacp.org.