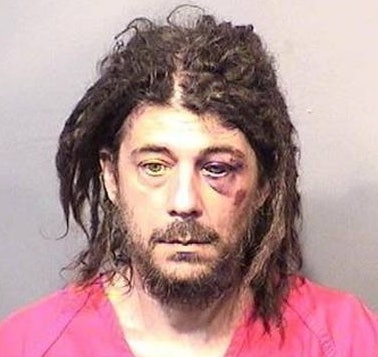 A Florida man believed to be high on flakka, a drug that authorities say is sweeping the state, attacked a police officer after twice being shocked with a Taser while repeatedly saying he was God, according to officials.
Kenneth Crowder, 41, of Melbourne, was arrested Friday on charges of battery on a law enforcement officer, resisting with violence and assault with a deadly weapon on a law enforcement officer, reports Local 10 TV.
According to a Melbourne police report, Crowder was spotted by witnesses running naked through a Melbourne neighborhood, yelling that he was a god before committing a sexual act on a tree.
A Melbourne police officer went to the area and confronted Crowder, who was wearing blue jeans and a T-shirt, officials said.
Crowder walked toward the officer in an aggressive manner and identified himself as God, according to police.
The officer used a Taser on Crowder, but he pulled the probes out of his body and continued to fight, police said. Crowder was shocked a second time, but he again pulled out the probes and went at the officer with clenched fists, according to police.
The officer punched Crowder in the face and a scrum ensued, with Crowder saying that he was Thor and trying to stab the officer with the officer's badge, police said.
Other officers arrived and helped subdue Crowder, who was handcuffed and shackled, police said.
Flakka is the a variation of synthetic substances known as bath salts and delivers a cheap, powerful high while acting as an amphetamine, according to officials. The drug can be snorted, smoked or taken by mouth and can cause violent behavior, officials said.