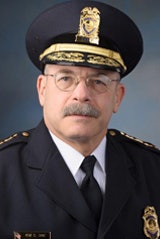 United States Capitol Police Chief Kim Dine submitted his letter of resignation Friday after more than two years in the position.
It is not yet clear if his letter of resignation has been accepted. Fox News reports, however, Dine is to stay despite offering his resignation after an incident where protesters were able to get near former Secretary of State Henry Kissinger during a Senate committee hearing in January.
The letter of resignation comes amid mounting frustration within the Capitol Police force, reports WTOP TV.
Capitol Police refused to get involved in a high-speed chase near the capitol from Prince George's County the night of the State of the Union in February.
There was also blowback when officers who were sent to the 2013 Navy Yard shooting were called back.