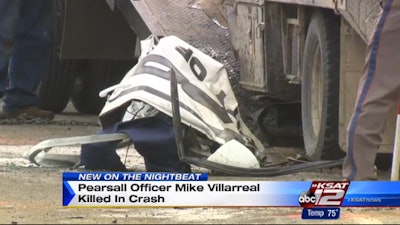 Officer Mike Villarreal of the Pearsall (Texas) Police Department was killed Sunday afernoon in a traffic accident while transporting a juvenile to a detention center in Jourdandton.
The Atascosa County sheriff said the accident happened around 1:30 p.m. five miles west of Jourdanton on Highway 97.
The Texas Department of Public Safety is still investigating the crash, but told KSAT TV that Villarreal's vehicle collided head-on with a Ford F-350 pickup.
Villarreal died at the scene. The driver of the pickup and the juvenile being transported were unconscious when paramedics arrived and taken by medical helicopter to University Hospital in San Antonio.