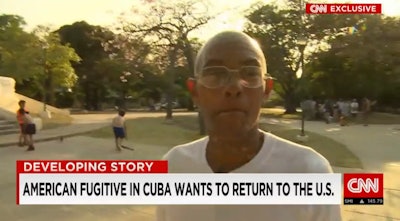 The man accused of killing a New Mexico State Police officer before hijacking a plane to Cuba more than 40 years ago says he wants to come home.
And Charlie Hill's return from Cuba would be just fine with New Mexico law enforcement authorities, who say they are ready to prosecute him for murder.
Gov. Susana Martinez has asked the Obama administration to pursue Hill's extradition so he can stand trial for Trooper Robert Rosenbloom's murder, the Albuquerque Journal reports. Members of New Mexico's congressional delegation have called for Hill's extradition, as well.
So far, the Castro regime, which has granted Hill asylum, has refused the request. But as the Obama administration seeks to normalize relations with the isolated communist country, fugitives like Hill could be a bargaining chip. He was tracked down in Havana this week and interviewed by CNN.
The 1971 shooting in which Hill is accused occurred during a traffic stop on a stretch of Interstate 40 west of Albuquerque known as Nine Mile Hill on Nov. 8. Hill and his two accomplices – Michael Finney and Ralph Goodwin (both now deceased) – belonged to a black militant separatist group known as Republic of New Afrika. They were headed east from California with a car loaded with weapons for the movement.
After the bloody confrontation with Rosenbloom, the men hid out in the mountains for nearly three weeks. Then they carjacked a wrecker truck in Albuquerque's Southeast Heights at gunpoint and forced the driver to take them to the tarmac of the Albuquerque airport.
Early in the morning of Nov. 27, they hijacked Trans World Airlines Flight 106. The Boeing 727 flew to Tampa, where passengers were allowed to exit, and then on to Cuba, where then-President Fidel Castro and the Cuban government gave the suspected killers political asylum.