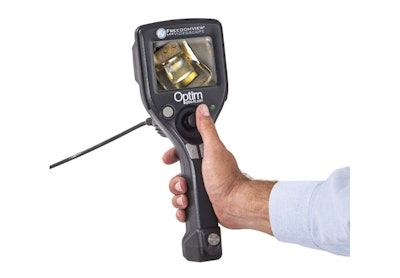 Optim LLC, a designer and manufacturer of flexible fiberscopes, videoscopes and related products, announced its FreedomView LED Videoscope for safer search and seizure of hidden contraband has received certification from Underwriters Laboratories (UL), the leading authority on product safety, for use in Class I, Division 2 Hazardous Locations. FreedomView LED Videoscope complies with UL standards and requirements for nonincendive electrical equipment.
The FV Videoscope allows law enforcement agencies to safely perform visual inspections of vehicles and other areas where contraband may be hidden. The FV Videoscope's durable and intuitive construction is made for real world conditions with a rugged tungsten shaft, transflective touchscreen display, and easy to use control functions.
The FV Videoscope transforms field inspections with its patented, integrated LED light source and sleek, compact handle design. It offers greater flexibility, while providing exceptional light quality and visual clarity to allow a wide range of non-intrusive, non-destructive visual inspection tasks virtually anywhere, quickly and easily.
"Optim is very confident the FreedomView Videoscope will build upon the outstanding reputation our FreedomView fiberscope has earned over the years with security personnel around the world. The FV Videoscope is the only videoscope to offer this prestigious UL hazardous certification at such an affordable cost," says Paul Joyce, President and CEO of Optim.
Key Features of the FreedomView LED Videoscope:
6.0mm diameter and 80" length
Patented OptiLux LED Lighting
Ergo-dynamic handle design with easy access ports for media storage, battery and USB
Direct stream over USB to PC
Powered by rechargeable li-ion battery
Lightweight, completely portable design - approximately 2 pounds
360 degrees, Joystick control with 110-degree articulating tip
Rugged tungsten braid shaft construction
Optim manufactures flexible remote vision products for medical and industrial applications. Optim's OptiLux LED-Light Engine is protected by several patents and is available for OEM applications where high-intensity white light is required in remote locations. For more information visit www.optim-llc.com.