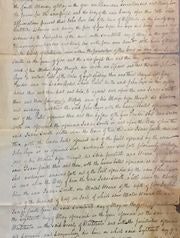 On May 17, 1792, Westchester Deputy Sheriff Isaac Smith was asked by a constable for help at Hunt's Inn, a tavern and wagon stop in what is now the Bronx. Once there, he encountered flintlock-brandishing John Ryer, a drunken ne'er-do-well who'd had frequent run-ins with the law. Words were exchanged and Smith told Ryer that he was under arrest.
According to the hand-written murder indictment found at the Westchester County Archives in Elmsford, Ryer held two pistols "charged with gunpowder," each containing "one Leaden Bullet." As the confrontation escalated, Ryer "willfully," and with "malice... did shoot and discharge" the weapon in his left hand, resulting in "one mortal wound of the depth of five inches and of the breadth of half an inch" in Smith's chest," the indictment says.
As Smith lay dying, Ryer jumped on his horse and galloped away.
"This was the Wild West back then," retired New York City Police Sgt. Michael Bosak said in a 1999 Journal News interview. An unofficial NYPD historian, Bosak was researching a book when he discovered the Ryer case in court papers. "I knew right away that Smith must have been the first officer killed in the United States."
Smith was considered the first officer killed in the line of duty in the United States until 2011, when researchers discovered records on the 1791 murder of Columbia County (N.Y.) Sheriff Cornelius Hogeboom, the Journal News reports.