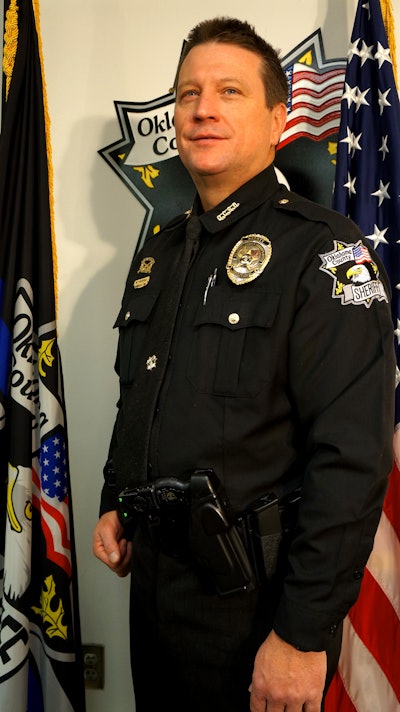 The National Rifle Association has named Oklahoma County Sheriff's Office Reserve Deputy Mark Vaughan as the 2014 Officer of the Year. Vaughan was cited for his quick response to a horrifying attack that occurred at his business.
On Sept. 25, Alton Nolen, an employee with a commercial fresh foods distributor in Moore, Okla., was suspended after an investigation into violation of work rules and harassment of employees. After leaving the company's human resources office, Nolen reportedly drove to his apartment where he retrieved an 8-inch-long serrated knife, drove back to the business, and crashed his car into a parked vehicle. Charges filed against him last year say he then entered the main office, attacked Colleen Hufford—the first employee he came upon—and murdered her by decapitation.
Vaughan, who is CEO of the food distribution company in addition to his duties as a reserve deputy, heard the screams from his company's employees and decided he needed to take swift and immediate action. Quickly evaluating the tactical needs of the incident, he knew he could best respond if he had his patrol rifle. He retrieved it and sought out the suspect.
While Vaughan was moving into action, Nolen allegedly targeted Traci Johnson and cut her across her throat and the left side of her face. Vaughan shot Nolen, ending the attack, authorities say. Nolen is charged with murder and is currently in the Cleveland County Jail. His trial is set to begin in April and prosecutors are seeking the death penalty. Johnson has recovered from her wounds.
"Mark put an end to the threat by shooting the suspect and saving the life of the second victim who was being actively attacked by the suspect," said Oklahoma County Sheriff John Whetsel. "There is every reason to believe that the lives of untold others were saved who would have been targeted by the suspect, if it had not been for Deputy Vaughan's actions."
The NRA cited Vaughan's "heroic actions" and said they were in the "highest traditions of law enforcement" as the reason for presenting him with 2014 NRA Officer of the Year Award.
"The actions of Deputy Vaughan on Sept. 25 were nothing short of heroic," said NRA President James W. Porter III. "Thinking quickly and clearly, he put an end to an unspeakable rampage. The National Rifle Association is honored to name Deputy Vaughan as NRA's Law Enforcement Officer of the Year."
NRA's Law Enforcement Officer of the Year Award was established in 1993 and recognizes an exceptional act or service by a law enforcement officer and is administered by the NRA Law Enforcement Division. http://le.nra.org/