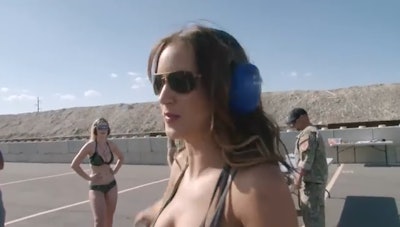 The Utah Department of Public Safety has suspended two peace officers who participated in a video shoot with British bikini models last year.
A sergeant with the Utah Highway Patrol received a three-day suspension late last year, according to documents provided last week.
An agent assigned to the State Bureau of Investigation received a one-day suspension. Both suspensions are without pay.
The two officers were present June 3 at the Big Shot Ranch near Grantsville, where British bikini models were posing for photos and being video recorded while firing guns. The women were making a calendar called "Hot Shots." They are seen in a promotional video posted in October on YouTube. The men are wearing camouflage uniforms identifying them as police, the Salt Lake City Tribune reports.
An internal affairs report says an acquaintance who has worked at firing ranges and as a tactical adviser in Utah asked the two officers three or four weeks before the event to help supervise the firing line where the models shot at targets.