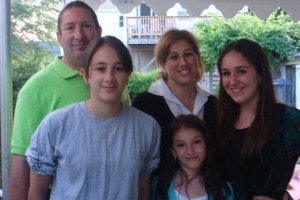 A flood of calls from New York Post readers has helped persuade state officials to give pension benefits to a Westchester woman whose retired-officer husband wanted to leave her destitute after he killed their teen daughters and himself, her lawyer said Monday.
Former White Plains Officer Glen Hochman, 52, had marked the "zero option" when he filed retirement papers weeks before gunning down daughters Alissa, 17, and Deanna, 13, in their sleep on Feb. 21 and shooting himself dead. Eldest daughter Samantha, 22, was away with his wife.
He left a note at their Harrison home that detailed the family finances and warned his wife, Anamarie DiPietro-Hochman, "This should be the last income coming in for a while, so spend it wisely," sources said.
A Post report about Hochman cutting her out of the pension prompted a flurry of phone calls to state Comptroller Thomas DiNapoli — and his office found a way to make it right.
They discovered Hochman initially filed papers that included DiPietro-Hochman, 50, before submitting amended paperwork that squeezed her out.
The second filing was not fully processed, so the office honored the first document.