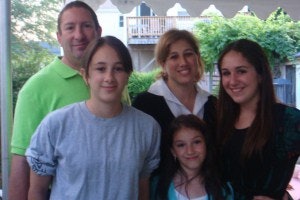 Harrison, N.Y., authorities say the recently retired White Plains police officer who killed his two sleeping daughters, himself and three dogs last weekend left a five- to six-page note behind "indicating the killings were premeditated."
The girls – Alissa, 18, and Deanna, 13 – apparently had both already been fatally shot in the head in their rooms when Hochman wrote the note sometime after 2 a.m. Saturday.
Friday the New York Post reported that Hochman, 52, intentionally planned to impoverish his wife and surviving daughter by cutting them out of his pension benefits before he murdered his other daughters and then turned the gun on himself.
Glen Hochman, who spent 22 years as a While Plains officer, filed retirement papers on Jan. 30 — about three weeks before the bloodbath — that intentionally left them out, sources said.
"It's the most selfish final insult," a family friend told the Post. "It's reckless and insulting for any man to leave his family high and dry like that, by choosing the zero option on their pension.
"But for him to do that and then kill his children, that's pure evil. He effectively stole the future away from the family he left behind."
Hochman's suicide note reportedly included taunts to his wife, Anamarie, 50, warning her to be financially responsible — even though he knew she would be broke.
Sources said Anamarie — who wanted a separation — may be able to challenge the retirement papers, but that won't solve her immediate financial problems for her and daughter Samantha.