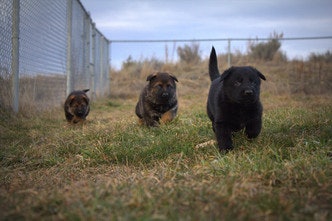 Ricki Draper loves dogs and her husband works for the Salt Lake County Sheriff's Office, so the two decided to marry their passions, and as a result Havoc K9 was born in 2011. The non-profit organization raises puppies and trains them to work with law enforcement and first responders before giving the dogs to local agencies free of charge, reports KSL.
Currently, dogs raised by program volunteers are working with organizations like the Pleasant Grove Police Department, Centerville Police Department, and Utah Task Force 1. Seven agencies in Northern and Southern Utah are slated to receive puppies from the latest batch, which will be meeting their trainers on March 7.
"I love seeing the teamwork between puppy raisers and the puppy — that teamwork, that fire, the excitement they have working as a team," Draper says. "Training this tiny little fluff ball into this amazing, confident dog that can go out and apprehend suspects and sniff out drugs — it's very cool."
Volunteers keep the puppies in their home for about a year and are responsible for socializing the dogs in public places and keeping them healthy. Twice a week volunteers take the dogs to training sessions, where the dogs learn scent detection, obedience and beginning apprehension. The organization pays for veterinary bills and training equipment.
It costs about $3,000 per puppy per year for basic maintenance, according to Draper. So far she has been paying for the program mostly out of pocket, but the organization also accepts donations as a 501(c)(3) non-profit group. Despite the costs, she loves the work and seeing the puppies meet their law enforcement handlers.