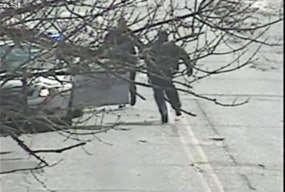 A man shot and wounded by Baltimore police on Sunday was captured on city video surveillance charging at a police officer without apparent provocation.
Police on Monday released footage of a traffic stop that occurred in the 1000 block of N. Fremont Ave. in West Baltimore, where an officer shot and wounded an unarmed 35-year-old man. The video was a rare instance in which police released surveillance images from a police shooting that remains under investigation.
The few seconds released shows a patrol car signaling a black Nissan Altima over. The driver pulls his sedan into a snowbank, gets out of his car and approaches the police car before the officer can get out. As the officer opens his door, the man quickly charges and forces the officer to retreat, the Baltimore Sun reports.
The footage, taken from a CitiWatch camera, which does not include audio, does not show what occurred next. Police Deputy Commissioner Jerry Rodriguez said the officer, backpedaling in a "tactical retreat," fired multiple times.
One of several backup officers also used a Taser on the man after he had been shot as police "tried to gain custody," Rodriguez said. "This individual was clearly going through some kind of crisis."
Rodriguez called the driver's actions "very unusual" and "very menacing and threatening."