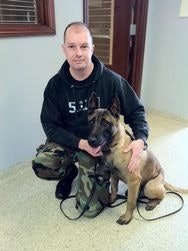 A Wilmington, Ohio, police dog found Sunday after being missing for about two months is recovering, and is expected to return to duty soon, officials said Monday.
K-9 Karson escaped from the Clinton Animal Care Center on Dec. 23 while he was being bathed, Wilmington Police Chief Duane Weyand said, noting that the dog's handler, Officer Jerry Popp, was on vacation at the time.
The department launched a search for the dog immediately after he went missing, hiring Jordina Ghiggeri of Lost Pet Professionals. The search for Karson cost at least $20,000, Weyand said during a press conference.
Karson endured freezing temperatures and snow storms while he was missing. The Belgian Mallinois, which weighed 55 pounds before he escaped, lost 14 pounds. His survival instincts enabled him to hunt and eat whatever he could find, officials told WHIO TV.
Police believe the K-9 traveled more than 100 miles during the 61 days he was missing. Karson stayed within a 20 mile radius on bike trails, Ghigerri said. Officers say the loyal K-9 spent much of his time searching for Popp.