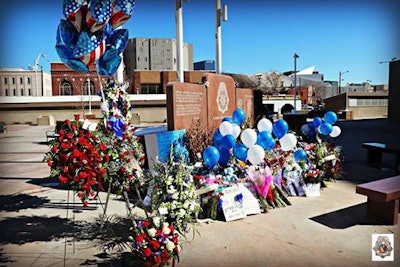 In the wake of weekend vandalism at the Denver police fallen officer memorial, law enforcement supporters — including police officers themselves — left a mountain of flowers at the site as part of a day-long show of solidarity Wednesday.
Protesters dumped red paint on the memorial — which honors more than 70 fallen police officers — on Saturday afternoon, also plastering stickers on the site and nearby pillars. Police arrested two men in connection with the vandalism. They are being held on "investigation of criminal mischief-vandalism," police said.
"When I heard about this yesterday, it occurred to me that this was the same as (vandalizing) our Vietnam Memorial in D.C.," said Tim Hall.
Hall, who said he is a veteran, came and left flowers at the memorial, the Denver Post reports.
The president of the Denver police union told The Associated Press that officers should have been allowed to intervene when the suspects threw red paint on the memorial. Instead, suspects were arrested afterward.
Denver Mayor Michael Hancock said Monday he will not allow emotions to rule during protests that could result in police officers getting drawn into violent confrontations.
"These are folks who are looking for a confrontation," Hancock said. "They're asking and baiting the officers to start something."