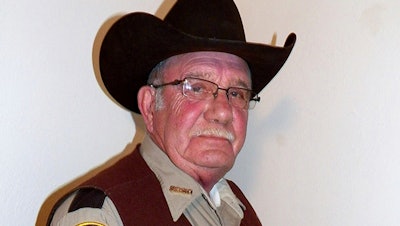 The new sheriff of a Wyoming county has banned his deputies from wearing cowboy hats and cowboy boots, a change that led one longtime deputy to retire rather than give up his Western attire.
Stephen Haskell has been sheriff of Sublette County since Jan. 5. The county covers eight communities, including Pinedale, which True West magazine recently named one of its 2015 top 10 true Western towns.
The new uniform is black trousers, a tan shirt, black boots and a black ball cap. And you won't see veteran deputy Gene Bryson wearing any of it.
"That's kind of the reason why I retired," Bryson, 70, said. "I am not going to change. I've been here for 40-odd years in the Sheriff's Office, and I'm not going to go out and buy combat boots and throw my vest and hat away and say, 'This is the new me.' I've had a cowboy hat on since 19-I-don't-know," Bryson said. "I've always worn a cowboy hat, all my life."
"I'm very much for the Western way of life and the look. And that's the way I dress," Sheriff Haskell said. "However, for a professional outfit -- and this also goes for my 25 years in the Marine Corps -- I like everybody to look the same. We are one team unified in one purpose. That is to do our job."
Bryson said he would've stayed if not for the rule change. But now that he's retired, he'll spend more time with his wife and grandchildren and at his gun shop in Marbleton.