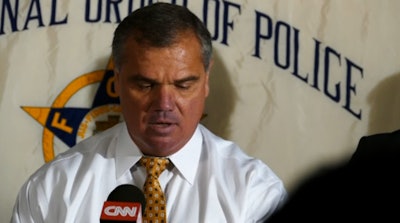 The rioting that followed the death of Freddie Gray was "preventable," but the police response was hindered by a leadership that was concerned with image over safety, the city police union charged in a report released Wednesday.
The union's "after action review" compiles accounts from officers to make the case that commanders' orders to avoid engaging the youths who were concentrated around Mondawmin Mall on the afternoon of April 27 emboldened people to riot, allowing the unrest to spiral out of control and spread across the city.
The union said commanders did not want police to be perceived as aggressors, but the result was officers doing nothing in the face of lawlessness.
Officers described being hit with chunks of concrete, sheltering inside businesses and buying their own protective equipment, reports the Baltimore Sun.
"I had never in my 14-year career been as afraid as I was at that moment," one said.
"Decisions implemented by top commanders of the Police Department left officers in harm's way," Lt. Gene Ryan, president of the Fraternal Order of Police, said at a news conference. "Equally as important, the lack of preparation put the very citizens we are sworn to protect in harm's way as well."
Shortly after release of the report, Baltimore Police Commissioner Anthony Batts was fired.