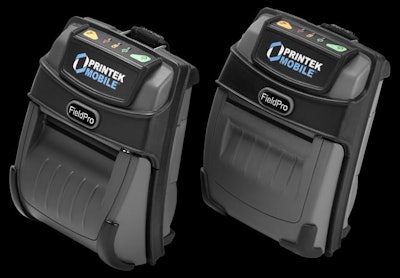 PrintekMobile, known for its reliable, innovative, rugged mobile printers, has announced the launch of its new FieldPro 530 mobile thermal printer series. The FP530 printers will provide smartphone, tablet, and laptop users the ability to print receipts, work orders, invoices, tickets, or other documents right from their device. The FP530L has the added capability of printing labels anywhere, anytime. These printers are packed with advanced features to help officers become more productive.
The FieldPro 530 and 530L are compact, lightweight, extremely fast, printers for mobile three-inch receipt, ticket, and label printing. Like other PrintekMobile printers, the FP530 series is available in Bluetooth, Wi-Fi, and cabled versions. This compact mobile printer features true 5 ips printing speeds, 6-foot drop survival, IP54 rating for water and dust, simple drop-in paper loading, and the latest battery technology providing full-shift printing in all configurations. The FP530 boasts a web-based interface to make printer configuration quick and easy as well as extensive fonts, character sets, bar codes, and graphic capabilities.
According to Russ Corace, executive vice president, "We are extremely excited about the launch of this groundbreaking new mobile printer platform. The FP530 series, with its Postscript compatibility, its ability to print popular file types directly, its web-based configuration, and its ability to emulate other popular printer brands, is the easiest mobile printer to use and to integrate into business applications. It is only one of a series of revolutionary new products we will release in the near future, once again emphasizing Printek's commitment to provide leading edge mobile printers for the rapidly changing workforce."
To download a brochure on the FieldPro 530 printers, visit: www.printek.com.