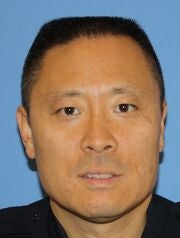 Sonny Kim, a 27-year veteran with the Cincinnati Police Department was shot and killed Friday morning during a shootout in Madisonville, leaving the department in mourning and a neighborhood on edge.
Kim reportedly was answering a 911 call about a man behaving erratically. When he arrived on scene, the suspect opened fire, and the two men exchanged multiple shots.

Chief Jeffrey Blackwell confirmed that the suspect in the shooting is also dead. He's been identified to The Enquirer as Trepierre Hummons.

Hummons posted a message on his Facebook status at 8:55 a.m. It read, "I love every last one of y'all to whoever has been in my life ... You're the real mvp," Cincinnati.com reports.

Blackwell declined to provide any information about what might have led to the shootout.

Kim, 48, had immigrated to the United States from South Korea in 1973. He was a well-respected officer who had earned 22 commendations and was praised in 2012 by the U.S. Department of Justice for his service.