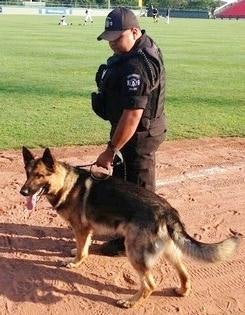 A Holbrook, Mass., police dog that got loose and bit a teen and his mother several times Sunday was ordered into quarantine by the state Wednesday.
The German shepherd was fenced in behind handler Joshua Knowlton's Holbrook home when he got free from his kennel.
The German shepherd went around the house where a 15-year-old boy, who lives next door to Knowlton, was swinging a baseball bat in his front yard.
Bo saw the swinging of the bat as a sign of aggression and attacked and bit the boy multiple times in the ankle, buttocks and thigh, Holbrook Police Chief William Smith said. The mother of the teen victim went outside to free her son and was also bitten, Smith said.