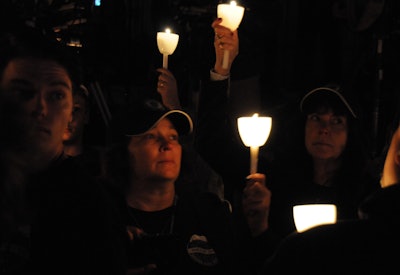 Wednesday night in Washington, D.C., thousands of officers, law enforcement survivors, law enforcement supporters, and dignitaries gathered at the National Law Enforcement Officers Memorial for the 27th annual Candlelight Vigil in memory of fallen officers.
National Law Enforcement Officers Memorial Fund Chairman and CEO Craig W. Floyd commenced the vigil with the story of one of the officers whose name was being added to the memorial wall. Dep. Michael Davis Jr. of the Placer County (Calif.) Sheriff's Office was killed on Oct. 24, 2014, while pursuing a suspect who had shot and killed another Placer County SO deputy. Davis Jr. died 26 years to the day that his father, a Riverside County (Calif.) Sheriff's deputy, had died in an on-duty helicopter crash. "The names of both father and son are now inscribed on panel 16E of the National Law Enforcement Officers Memorial," Floyd said.
Law enforcement as a "family" was an ongoing theme of the Wednesday event. After an invocation by the pastor brother of a fallen officer, Floyd asked the family members of fallen officers in attendance to stand. As the police survivors stood, Floyd said to them, "Please look around you and see the thousands of members of your extended family."
Department of Homeland Security Secretary Jeh Johnson carried on the theme in his remarks. Speaking of his experiences visiting the precincts of fallen NYPD officers, Johnson said, "The greatest strength of law enforcement is that it is a family. Every federal law enforcement agency, police department, highway patrol, sheriff's department or precinct is a family. A family that supports and protects each other in life, and grieves for and honors the memory of those in death."
New U.S. Attorney General Loretta Lynch also spoke of the strength of the law enforcement family. She closed her remarks with a pledge that the Department of Justice would do everything it could to keep names of law enforcement officers off of the memorial wall.
"I am humbled to stand with you to strengthen our support for law enforcement officers and their families," Lynch said. "And I am proud to say the Department of Justice has made it a top priority to offer every tool and resource we can bring to bear to keep you and your loved ones safe from harm." Closing her remarks, Lynch listed some of the DOJ's programs designed to promote officer safety including the VALOR training programs and the Bulletproof Vest Partnership. She also mentioned the new $20 million Body-Worn Camera Partnership Pilot Program, which will help agencies acquire and use body cameras.
As the ceremony moved toward the reading of the names being carved into the memorial this year—117 fallen officers from 2014 and 156 names found by historical research efforts—Floyd told the audience that this year's Police Unity Tour sponsored bicycle ride raised $1,997,000 and that over the 19 years of the Tour, it had raised nearly $18 million for the National Law Enforcement Officers Memorial.--David Griffith