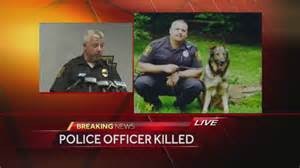 A Ligonier Township, Pa., police officer was killed early Saturday when a van traveling in the wrong direction on Route 30 struck his patrol vehicle head-on.
State police said Lt. Eric A. Eslary, 40, of Ligonier Township, died in the crash near Idlewild Park in Ligonier Township.
According to state police, around 1:45 a.m. Lt. Eslary was traveling west in a Ford Expedition while on patrol in the area of Clark Hollow Road when a commercial van traveling east in the westbound lane struck Lt. Eslary's vehicle head-on.
Lt. Eslary was taken to Excela Latrobe Hospital, where he was pronounced dead at 2:46 a.m.,the Westmoreland County coroner's office told the Pittsburgh Post-Gazette.