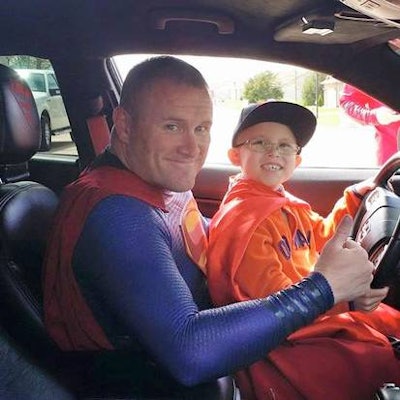 Brian Schottel says his 7-year-old son, Bryce, has a tumor in his stomach that's so big, the boy looks like he "could be a 50-year-old with a beer belly."
Dallas police Senior Cpl. Damon Cole saw an online picture of Bryce, dressed up as Superman for Halloween. Cole has a 7-year-old of his own — a daughter — and was touched by Bryce's story. He wanted to do something to help the boy and his family, the Dallas Morning News reports.
One super problem: Bryce and his family don't live around here. Not even close. They live in Smithton, Ill., a town of 3,500 people about 30 minutes outside of St. Louis.
So Cole hopped in his Superman-wrapped black 2012 Dodge Charger this month and drove up, up and away for 11 hours to spend time with Bryce.
When he got to Illinois, Cole knocked on the Schottels' door in a full Superman costume and greeted Bryce, who was diagnosed with lymphoma Feb. 28 and has been receiving chemotherapy treatments. Cole showed Bryce his car. He gave him his spare Superman cape, an action figure and a keychain.
"All Bryce kept saying was 'Wow,'" Brian Schottel said.
Dad said he was in awe, too.
Cole has been dressing as Superman for years now. He is part of a cadre of Dallas officers — called "Heroes, Cops and Kids" — who portray superheroes regularly to mentor kids.
But Cole's love of Superman goes back further. When he was a Little Elm cop eight years ago, he had the Superman logo stitched into his bulletproof vest.
"You get some kids who are scared of us because when their parents are out, they'll see us and say, 'Hey, if you don't behave, I'll get that officer to arrest you,'" Cole said. "We don't want that. We want the kid to know he can come to us at any time."
He said he builds a rapport with kids when he shows them the vest. The kids then ask where his cape is.
"I'm like, 'Well, I can't wear my cape with my uniform. It'll get wrinkles,'" he said. "And they believe it, and they eat it up."