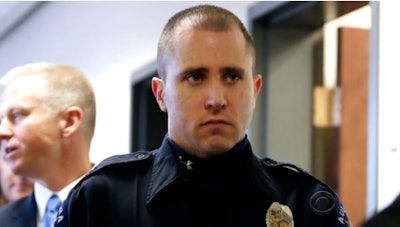 The police officer who arrested accused Colorado movie theater massacre gunman James Holmes told jurors on Thursday the shooter seemed very calm, relaxed and "sort of disconnected" when he found him standing behind the cinema where he had killed 12 people.
Holmes, 27, is charged with multiple counts of murder and attempted murder for opening fire inside a packed midnight premiere of the Batman film "The Dark Knight Rises" at a Denver-area multiplex in July 2012, also wounding 70 people.
The former neuroscience graduate student has pleaded not guilty by reason of insanity. Prosecutors say they will seek the death penalty if he is convicted, Reuters reports.
On day four of the trial, the prosecution called Aurora police officer Jason Oviatt, who found Holmes next to his car outside the theater wearing a gas mask, helmet and body armor.
Oviatt thought at first that the defendant was a fellow officer, because of his dress. But he realized Holmes was acting oddly and ordered him to his knees.
"He was sort of vacant. He was very relaxed. He was very calm and sort of disconnected ... not displaying any outward emotion or any outward sign of real engagement in what's going on," Oviatt told the jury of 19 women and five men.
"He was very sweaty. He smelled bad."
Another police officer, Aaron Blue, told jurors he asked Holmes if he had any weapons, and that he replied: "I have four guns. I have improvised explosive devices, and they won't go off unless you set them off."
The trial is expected to last four or five months.