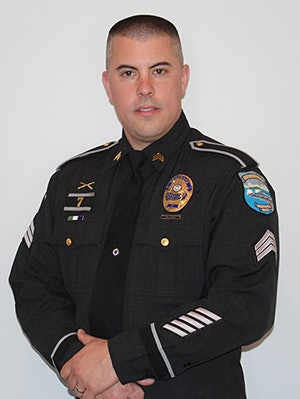 For rescuing a man from drowning, the National Law Enforcement Officers Memorial Fund has announced the selection of Sgt. Philip B. Gingerella Sr. of the Charlestown (R.I.) Police Department, as the recipient of its Officer of the Month Award for April 2015.
On August 13, 2014 at 2:30 p.m., the Charlestown Emergency Dispatch Center received a frantic 911 call reporting a distressed boogie boarder trapped in a strong riptide current and unable to return to shore at the Blue Shutters Town Beach in Rhode Island. Due to heavy rainfall, the beach was closed, and no lifeguards were on duty to help the man in need.
Sgt. Philip Gingerella and fellow emergency responders arrived at the scene, spotting the man over 300 feet away from the shoreline. Two rescue vessels were dispatched to assist but were delayed due to the dangerous and rough water conditions.
With the man growing weaker by the minute and no rescue vessels in sight, emergency responders put a plan into motion. Applying his over 20 years of experience as a lifeguard, Gingerella determined that he could execute the water rescue.
Gingerella quickly removed his uniform, body armor, gun belt, and boots. He put on a life jacket and attached himself to a reel rope. With the aid of a flotation device, Gingerella swam against the large breaking waves and rip current to reach the stranded victim.
Gingerella gave the man the flotation device and attached him to the safety rope. Together, the two made it to safety with the assistance of the rescuers on shore.
According to Charlestown Chief of Police Jeffrey Allen, "Sgt. Philip Gingerella demonstrated great bravery and went above and beyond the call of duty. He took the initiative to attempt the surf rescue himself. Sgt. Gingerella, knowing he possessed the knowledge and ability to perform the water rescue, put his knowledge and training to use."
Located in the nation's capital, the National Law Enforcement Officers Memorial Fund is a nonprofit organization dedicated to honoring the service and sacrifice of America's law enforcement officers. The Memorial Fund's Officer of the Month Award Program began in 1996 and recognizes federal, state, and local officers who distinguish themselves through exemplary law enforcement service and devotion to duty.
Sgt. Philip B. Gingerella Sr., along with the other Officer of the Month Award recipients for 2015, will be honored at a special awards ceremony in Washington, DC, in May 2016, during National Police Week. In addition, their stories of service and heroism will be featured in the Memorial Fund's annual calendar.
For more information about the National Law Enforcement Officers Memorial Fund's Officer of the Month Award, visit www.LawMemorial.org/OTM.
About the National Law Enforcement Officers Memorial Fund
Established in 1984, the National Law Enforcement Officers Memorial Fund is a non-profit organization dedicated to telling the story of American law enforcement and making it safer for those who serve. The Memorial Fund maintains the National Law Enforcement Officers Memorial in Washington, DC, which contains the names of 20,538 officers who have died in the line of duty throughout U.S. history. The Memorial Fund is now working to create the National Law Enforcement Museum, which will tell the story of American law enforcement through high-tech, interactive exhibitions, historical artifacts and extensive educational programming. For more information, visit www.LawMemorial.org