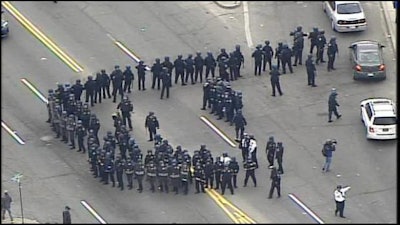 Students and other people were throwing rocks and bricks at Baltimore officers in riot gear today after high schoolers were apparently asked via social media over the weekend to rally at Mondawmin Mall, reports WJZ.
Officers were using mace and what appears to be tear gas to disperse crowds. Several arrests have already been made. There was looting and violence along W. North Avenue, including at a CVS store. Several police vehicles were also set on fire.
Police say seven officers were seriously injured in the melee, some with broken bones. At least one was unresponsive.