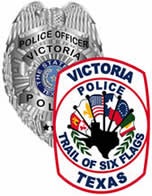 The two Victoria, Texas, police officers who fatally shot an Army veteran suffering from post-traumatic stress disorder will not face criminal charges, reports the Victoria Advocate.
The officers did not act criminally or negligently when they fired five shots at Brandon Lawrence the night of April 25.
"By his conduct, intoxication and emotional imbalance, Brandon Lawrence is not only the proximate cause, but the definite cause of his own death," the grand jury wrote in a report about the shooting.
"I do not agree with the outcome. I still stand by what I said. I believe my husband was murdered," Lawrence's widow, Yasmine Lawrence, wrote via a Facebook message on Thursday.
The officers responded after receiving reports Lawrence was pacing erratically, ranting loudly and brandishing a 2- to 3-foot machete in his apartment complex's common area.
Lawrence came outside his apartment when the officers ordered him to, but was still brandishing the machete. The officers announced their identity between eight to 10 times and so did his wife, the grand jurors wrote.
The officers then ordered Lawrence to drop his machete more than 50 times. When he took two steps toward the officers holding it over his head, they fired the shots from about 20 feet away, the grand jurors wrote.
The grand jurors said the situation did not lend itself to safe de-escalation both because Lawrence could theoretically close the distance between them within one to two seconds and because officers are not universally equipped with non-lethal weapons.