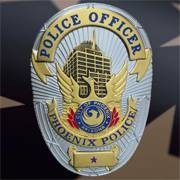 The Phoenix Police Department's Use of Force Board has found that the circumstances surrounding Michelle Cusseaux's death do not comply with department policy, reports ABC 15.
Cusseaux, 50, was shot in August 2014 after she came at Phoenix Police officers with a hammer. Police were called to the scene after she reportedly called and threatened her mental health facility.
Family called for an independent investigation into the woman's death. Her mother, who called authorities, has said she was just trying to get help for her daughter.
The Police Chief has reportedly accepted the Board's recommendation.
Going forward, the case will be sent to the Disciplinary Review Board, made up of two community members and four employees, to determine the level of discipline for those involved.
The disciplinary board may decide upon suspension, demotion, termination or other.
The Phoenix Police Sergeants and Lieutenants Association is disappointed in the findings and says it does not factor in the split-second decision the sergeant who shot Cusseaux had to make.