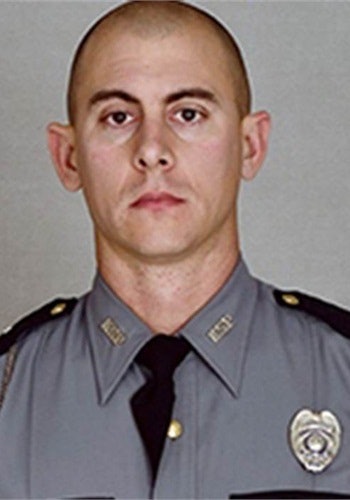 Kentucky State Police Trooper Jay Thomas says Trooper Joseph Ponder did not plan on arresting the man suspected of killing him when he pulled him over for driving on a suspended license and was even trying to arrange for a hotel before the suspect drove off, reports WZTV.
Trooper Thomas says Johnson-Shanks' 18-year-old niece, a 22-year-old woman, and two children under the age of six were in the car when Trooper Ponder pulled them over. Since the violation was minor, Trooper Ponder did not plan on taking the suspect to jail and was instead arranging for a hotel room where Johnson-Shanks and the other passengers could stay. Since none of the women had driver's licenses, Ponder was trying to arrange the hotel until someone could pick them up and drive them all home.
That's when "for unknown reasons," Johnson-Shanks took off in his vehicle. A chase ensued and Trooper Ponder bumped into the suspect's car before it came to a stop. At that time, Johnson-Shanks fired several shots from inside his car that struck Trooper Ponder. Trooper Ponder would later die from his wounds.
Johnson-Shanks took off on foot into a wooded area. After he was found by a Special Response Team and refused to drop his weapon he was shot by one of the officers and died from his wounds.
Trooper Ponder had just graduated from the academy in 2015 and was a former Navy diver who worked with the Navy SEALS and had been deployed several times.