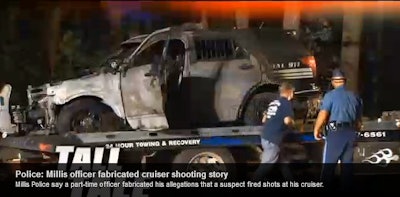 VIDEO: Massachusetts Officer Fabricated Patrol Car Shooting Story
Millis, Mass., police say a part-time officer fabricated his allegations that a suspect fired shots at his cruiser.
The officer, whose name police are not yet releasing, has been terminated, police say. Police say there is no gunman at large and no danger to the public.
Police on Wednesday responded to the area of Forest Road on Wednesday after the officer reported a suspect fired shots at his cruiser. The cruiser had gone off the road and caught fire. Immediately after, police conducted a large search of the community but never found a suspect or a car connected to any suspect.
Police also searched for ballistics evidence from any shooter, but never found any. Police, however, recovered, ballistics evidence from the officer.
After interviewing the officer and reviewing evidence, police concluded the officer fabricated the shooting story. The officer fired shots at his own cruiser as part of a plan to make it appear that a suspect fired on his vehicle, WHDH TV reports.
Related:
Video: Massachusetts Patrol Vehicle Hit by Gunfire and Crashes, Officer OK
Man Who Shot at Massachusetts Officer, Causing Patrol Car Crash, Still at Large