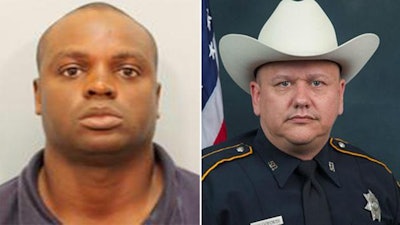 The Harris County (Texas) Sheriff's deputy never saw the man who walked up behind him and shot him in the head before unloading an entire 14-round clip into his body, a Harris County, Texas, prosecutor said Monday.
Deputy Darren Goforth was found in a pool of blood next to his patrol car, which he had been filling up with gas at the time of his death, District Attorney Devon Anderson told CNN.
Shannon J. Miles is charged with capital murder in Goforth's Friday slaying. He arrived at Harris County District Court in Houston wearing the yellow jumpsuit the county assigns to high-security inmates, his wrists and ankles shackled to his waist. Miles did not speak much during the hearing, but at one point, Judge Denise Collins admonished Miles to address her as "ma'am."
Surveillance video of the shooting shows Miles wearing a white T-shirt, red shorts and tennis shoes as he walks up behind Goforth, Anderson said.